If you are looking for driveway or patio cleaning, look no further!
With our professional washing and pressure cleaning services, at Bioshine we can restore your driveways, patios, terraces and paths appearance and good condition.

Pressure washing is a convenient and highly affordable way to rejuvenate your driveway and make it look almost new again.
This not only increases the value of your house, it also ensures that there is less erosions and weeds for future repairs, as invasive weeds are washed away during driveway cleaning.
At Bioshine, we can clean all types of patio and driveways.
Concrete
Block Paving
Cobblestones
Paving Slabs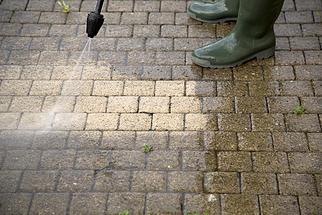 After your driveway is cleaned we restore with sand fillings, to ensure it remains stable for a long time.
We also can apply weed killer if necessary. This will kill all the weeds right to the root and prevent the growth of new weeds for up to 8 to 12 months depending on the solutions used.
So why wait? Call us today for a no obligation quote!!
Contact us at 01707 242876 or 07539 903841 or email us at info@bioshine.co.uk
Do not forget!!
At Bioshine, we offer full money back guarantee!! Read more here.